Hi lovelies! I know I've been missing for a couple weeks now....AGAIN. I know, I'm a terrible blogger these days. But I have a valid excuse! I've been busy with my new job as Beauty Consultant at Boots and I'm struggling to find time to blog with a full time job whilst still trying to have a life. When I get home, all I really feel like doing is relaxing with my boyfriend, having some food and eventually drifting off to sleep at a grandma early time. I'm hoping to be posting a lot more often now that I've gotten into the flow of things and no longer come home with ACHY ACHY feet. And because I hope to be spending some of my hard earned money on cosmetics to review for you all! :D
Anyways, onto my favorites for the month!
China Glaze's Emerald Fitzgerald and Revlon's Sugar Plum
These were the two nail polishes I sported this month. I broke out the Autumn/Winter colors and two of my favorites are China Glaze's Emerald Fitzgerald and Revlon's Sugar Plum. At the moment, I'm wearing e.l.f's Cranberry, which I also absolutely love.
Clarin's Vital Light Serum
A little while back, Clarins PR were kind enough to let me test out their newest serum for me to review here. While I haven't gotten around to doing a full review yet (busy busy busy), I can definitely tell you it's been my favorite skincare product since using it. I wasn't using it for the anti-aging properties, but for the claims of reducing dark spots. I have quite a lot of scarring left over from my acne and I still get pimples and they often leave behind scars as well. This has been great for lightening the scars.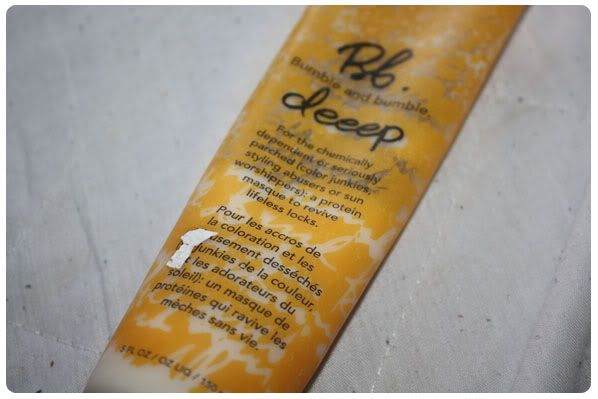 Bumble and Bumble DEEEP Masque
Being the beauty junkie I am, I have many a conditioner in my shower that I try to use to make sure they aren't wasted, but my favorite from the bunch has to be Bumble and Bumble's DEEEP Masque. I've never kept it on the full 15 minutes it recommends, but I do love using it as a quick leave in conditioner. Everytime I use it, my hair smells amazing and feels sooo soft the next day.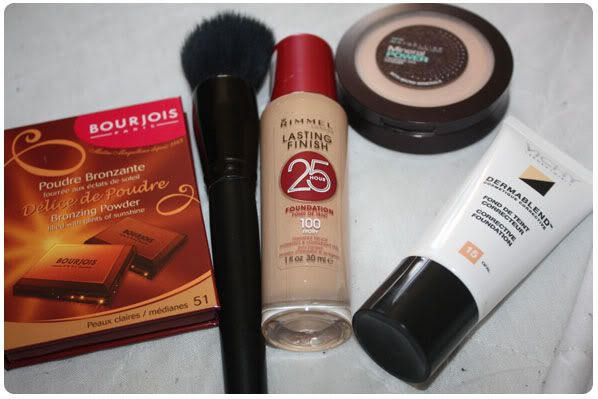 Bourjois Chocolate Bronzer, e.l.f Studio Powder Brush, Rimmel Lasting Finish Foundation, Vichy Dermablend Corrective Foundation and Maybelline Mineral Powder.
This is the face makeup I've been using for the majority of this month and past months. I use the Vichy foundation as a concealer for all my scars, etc, and then use the Rimmel foundation. I just find it lasts the longest for me, especially through a work day. The Maybelline powder does the job well of setting the foundation, but obviously doesn't keep me oil free all day long. I love applying it with the e.l.f Powder brush. Finally, whilst I don't apply it everyday, I love the Bourjois Chocolate Bronzer for adding some warmth to my face minus any orange.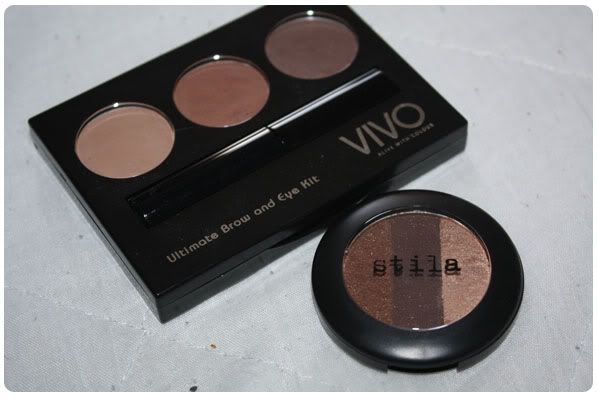 Vivo Brow Kit and Stila's Eyeshadow Trio in Gilded
I like using the darkest color in the Vivo kit for my brows, but it's not something I bother with every day. In terms of eyeshadow, I've been sticking to very simple and easy looks, typically just one color on my eye lid and that's it. Well, with some mascara of course. I love the color on the right (I think it's Kitten??) of the palette, but less so the other colors, they have too much chunky glitter and fallout for my liking.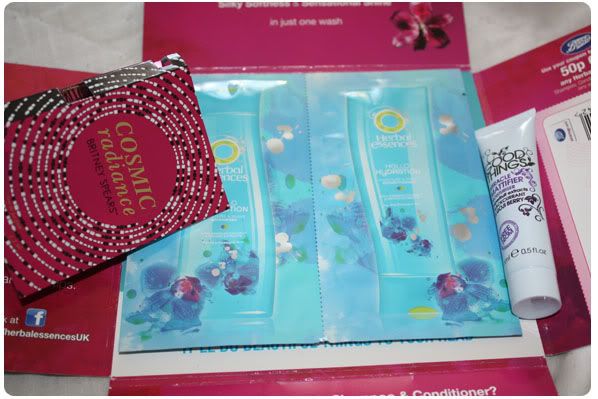 FREEBIES!
I've also been loving free samples. Loads of websites always post about the latest samples being offered through Facebook, etc, and I love claiming them. Especially the past months when I've been poor and money-less. My favorite sample I got was of the new Baileys Biscotti flavor...mmm it was good.
Anyways that's it! Sorry if this seems poorly written. I'm just getting back into the hang of things! What have been some of your favorites this month?