Ever since spending one night (okay, maybe a few) watching Laura Geller on QVC, I've wanted to try out some of her makeup. Especially the Balance n Brighten because it seemed to be the most raved about product. But it seemed the best way to try her brand was through her gift set / collections. So for Christmas, I asked for one, and here is what I thought.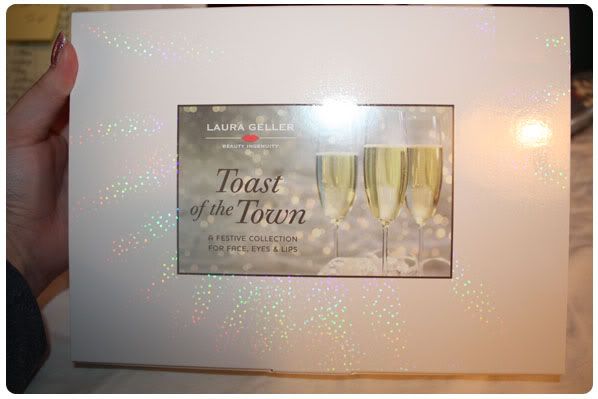 Laura Geller is most well known for her baked makeup, which apparently takes ages to make, which is what makes it so amazing. (supposedly). But she also does other products, like her spackles (that's primers to you and me) and now has launched some whipped products, which I'm interested in trying, I must say.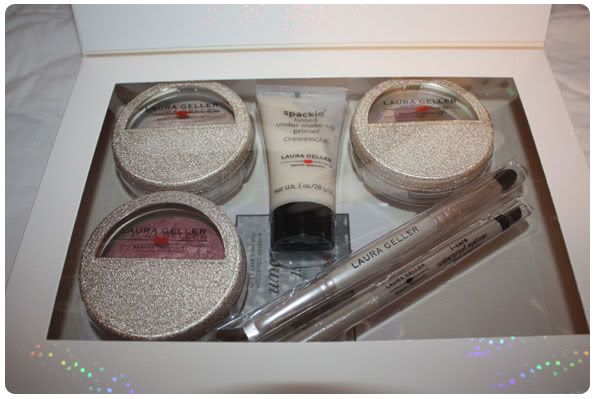 First I'll mention the packaging: LOVE! I'm a sucker for sparkles so sparkly compacts are right up my alley. What I also love about her packaging is the little peep holes. Because a lot of the products come in very similarly shaped and sized compacts, it's nice to be able to see what the product is without having to open it or turn it over and read the label.
Now onto the products!
Spackle Tinted Under Make-Up Primer in Champagne: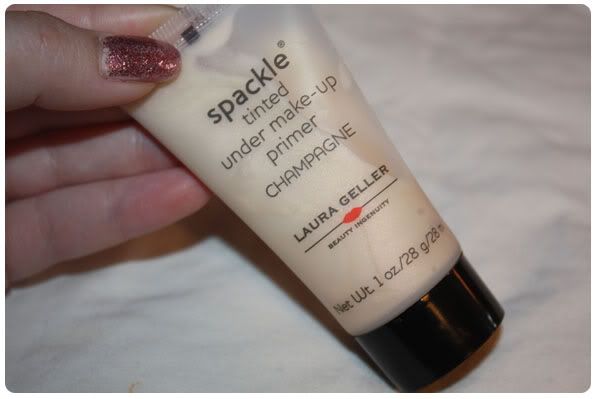 Hate to start off with a negative, but I'm not a fan of this product. Yes, it leaves your skin primed for makeup, smooth, a good overall canvas for the powder or foundation, but….it contains CHUNKS of sparkles. Gross. Me no likey. One your powder goes on, you don't really notice the glitter, but one or two show through in certain lights and it looks artificial, obviously.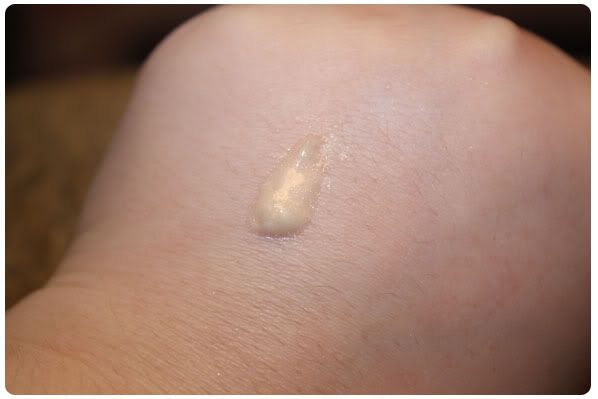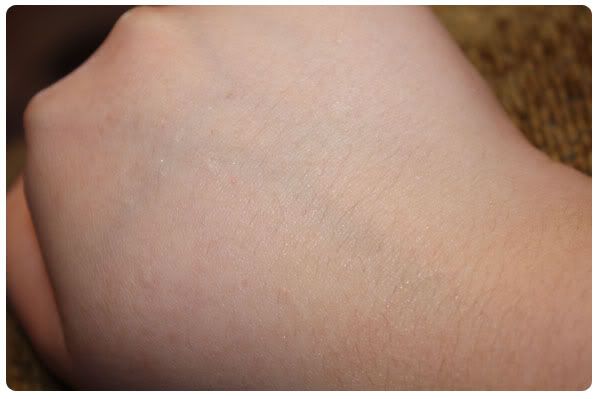 Balance N Brighten in Regular/Medium: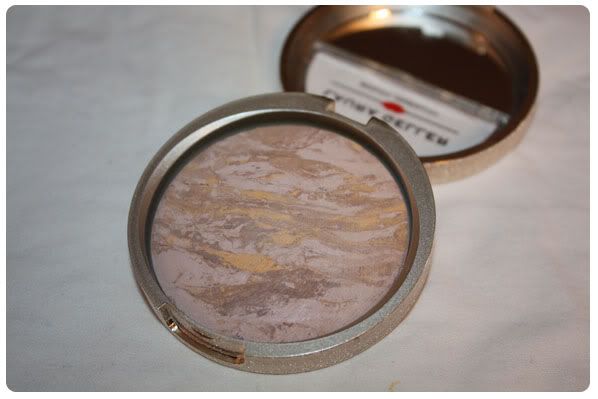 I had wanted to try the Fair version, but I guess my sister didn't get the memo. No, I'm kidding, LOVE YOU CASSEY. But it's actually a pretty good match for my skin. I can see why people rave about this one. It blends in effortlessly, doesn't sit on the skin, you don't even feel or see it. It evens out your skin tone, covers pores, but sadly is not enough for me on its own. It doesn't conceal my acne scarring, which I didn't expect it to do. I would be tempted though to wear just this on a lazy day…if no one REALLY had to see me. Would it replace my new favorite Clarins Ever Matte? No. Is it pretty damn good? Yes.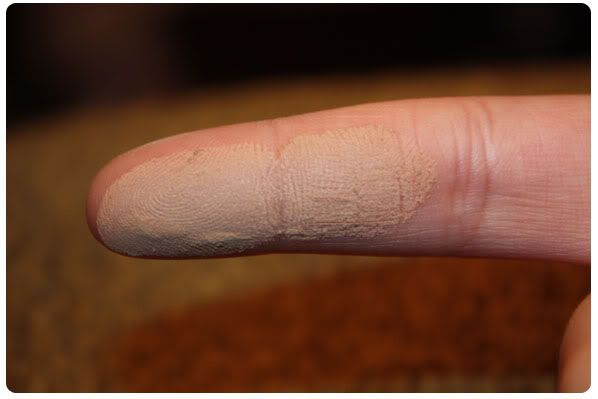 Baked Eye Dreams Eyeshadow in Bellini: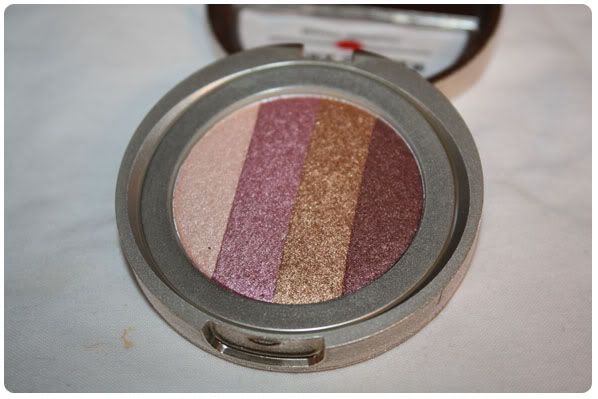 These shadows are well pigmented and easy to blend and work with. They're slightly more intense when applied wet, as with most baked shadows, but it's not necessary if you can't be fussed. It's an interesting choice of colors, but not ideal for me. It does make a pretty sunset type look, but I'm just not a fan of golds or pinks on my eyes for everyday. I'd like to try more of her eyeshadows though, just different colors.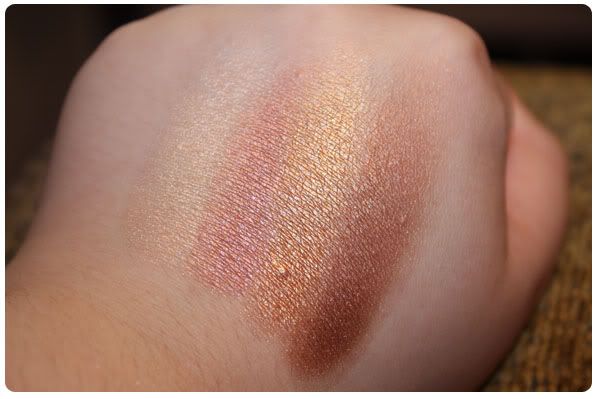 Blush N Brighten in Mimosa:
This blush is a gorgeous color. When I first saw it, I was a bit worried it was going to be far too sparkly and shimmery for my cheeks. Surprisingly enough though, it gives your cheeks the perfect flush of color and glow without being over the top.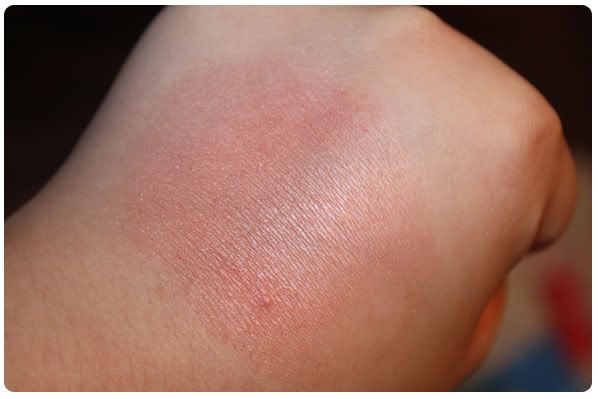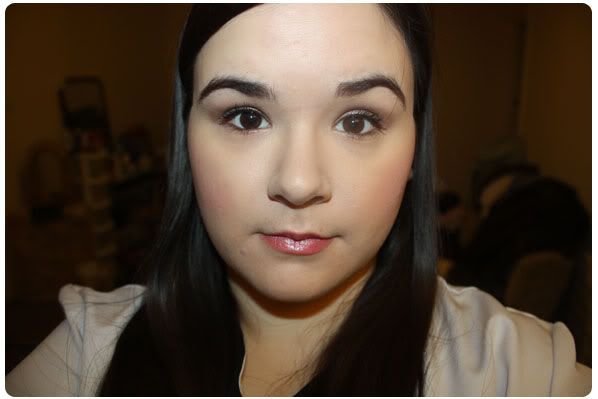 i-care Waterproof Eyeliner in Purple Paradise: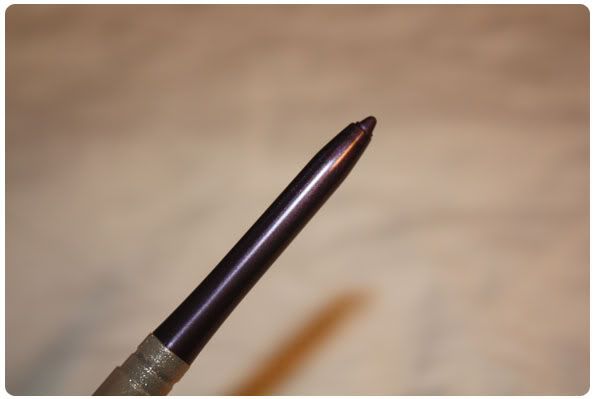 Another let down. It was annoying how much I had to apply just to get it to show up a little bit on my waterline. Even when used on the upper lash line, it's disappointing, too subtle and sheer for my liking.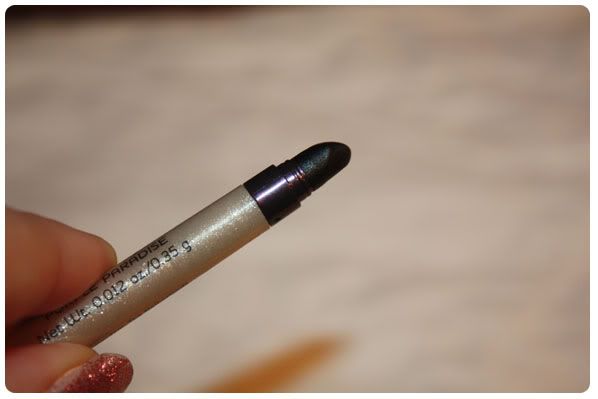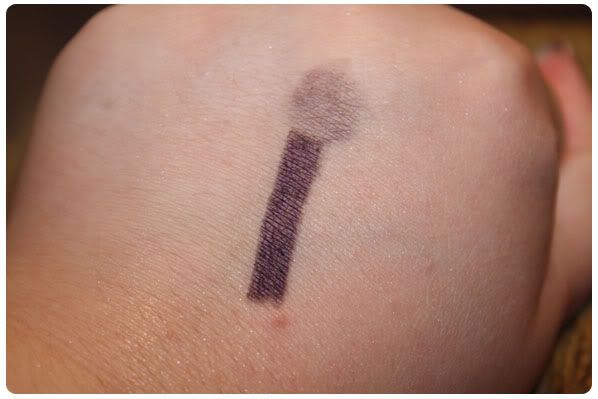 Brush: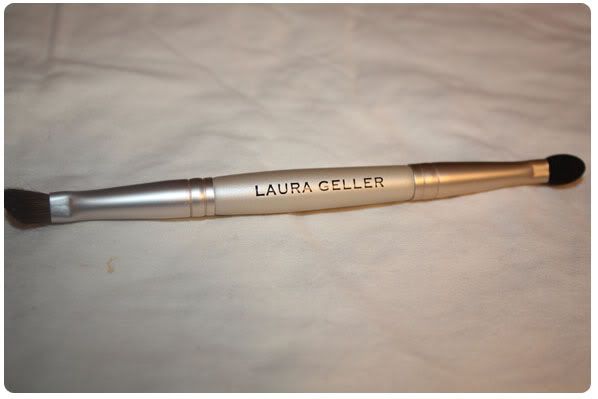 It's not bad. I'm not a huge fan of sponge tip applicators, like most, but it's not horrible for just applying one color to the lid and really packing it on. The other side is what I'd describe as an angled blending brush which I find works pretty well for the outer V.
Eye Spackle: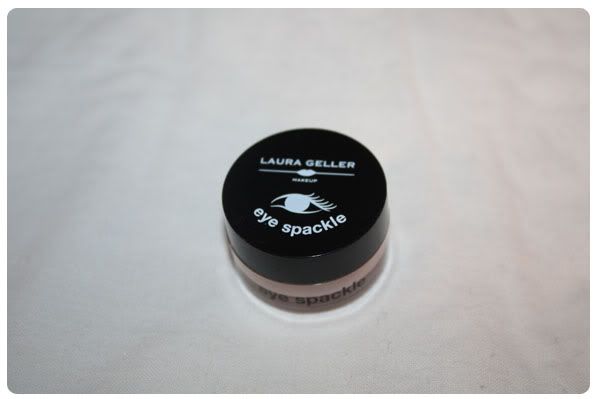 This isn't included in the kit, but came as a free sample when my sister purchased this for me. The only reason I would use this is as a concealer for the eyelid to conceal any redness or veins. NOT as a primer. It's terrible. I have oily skin and oily eyelids, so maybe it's just me, but this creases after like…1 hour. In fact, when testing this product, the eye that I didn't apply any primer to lasted longer than the side WITH the primer. Not good. Urban Decay Primer Potion FTW.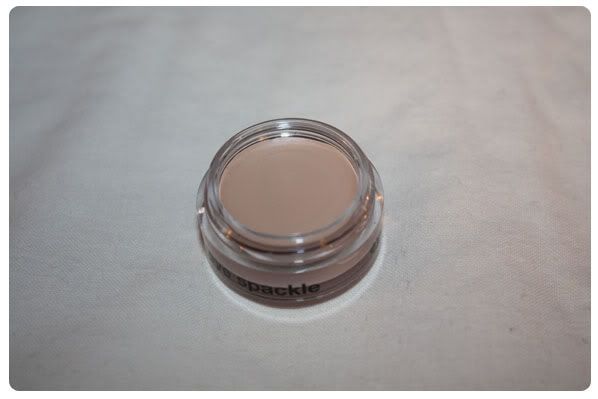 Overall, I found some things from Laura Geller that I'd like to try again, and some things I wouldn't even think about purchasing.
The kit cost $59.95, but I don't think it's available anymore, but she has plenty of other kits available at Ulta in the US and on QVC UK.