This limited edition collection from L'Occitane comes after the huge popularity of their Pivoine Flora Eau de Parfum. Inspired by the Peony flower, the gorgeous Pivoine Delicate collection includes Eau de Toilette, Lip Shines, Lipsticks, Hand Cream, Eau de Toilette / Gloss duo (genius!), Shimmering Powder and a Fresh Mist.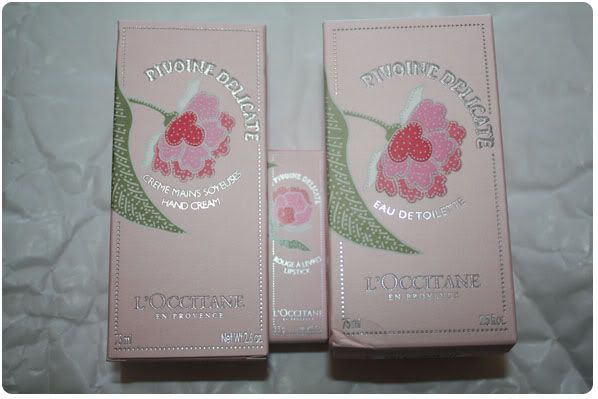 I have three products from the range to share with you today.
Pivoine Delicate Eau de Toilette (£33 for 75ml):
"The Pivoine Delicate Eau de Toilette blends the softness of peony and rose petals with the green transparency of lily of the valley in a luminous floral accord with a soft powdery trail."
Top notes: citrus fruits and white peach
Heart notes: rose, peony and lily of the valley
Base notes: white musk and light woods
As with most eau de toilettes, I find that the scent only sticks around for a few hours before I feel it's necessary to top it up again. But to be perfectly honest, I find that's the case even with perfumes that are supposedly meant to last all day. It's a stunning scent and I prefer it to the original. I was a fan of the original, but I much prefer this delicate version of it. It's housed in a very similar bottle as the original, except it's pink as opposed to red, to really drive home the fact that it's a lighter version of Pivoine Flora.
Pivoine Delicate Hand Cream (£13 for 75ml):
"Enriched with shea butter and subtly scented, this cream leaves hands soft, irresistible and absolutely kissable."
I've always loved two things about this brand: their packaging and their hand creams. I've never been a huge hand cream person because my hands never feel dry, other than at REALLY cold points in the winter. But when I have used them, they've been by L'Occitane because they smell amazing and sink in without leaving that greasy feeling a lot of creams leave. I've thrown this in my purse because although it's not as travel sized as a lot of their hand creams, it's still a great size for carrying around. It's a light cream that's not runny, it's actually rather thick, so it gives you the moisture you need, but because it's so light it doesn't take ages to sink in.
The packaging is rather interesting and different from your typical screw cap. You twist the bottom and a hole opens up and from there you just squeeze and volia, out comes product. You don't have to worry about any of it leaking out into your purse though because it twists shut with a click so you know it's sealed.
Pivoine Delicate Lipstick in Shade 02 (£12.50 for 3.5 gr)
"These smooth lipsticks reveal beautiful lips in natural and vibrant tones."
The Pivoine Delicate Lipstick is definitely not your average lipstick. It's more like one of those lipstick hybrids that's been everywhere as of late. Meaning it's extremely buttery on the lips with a hint of color. It's a very sheer pinky nude but it's gorgeous on the lips, very light and not heavy at all. It contains some subtle sparkles that just adds that extra dimension to the lips. It's perfect for girls like me who want to rock the nude lip without the chalky concealer effect. This, ladies, is how a nude lip should be worn.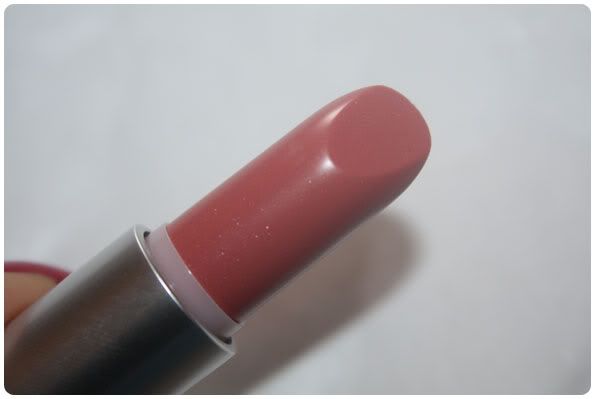 And can we all please just admire the packaging? Everything from the floral print it's adorned with down to the material used to make it, a lot of thought was clearly put into this tube of lippy.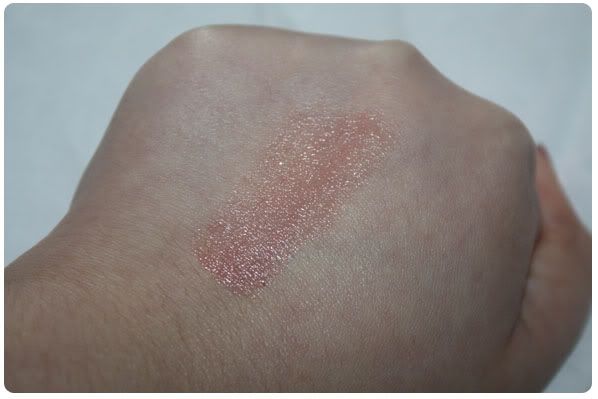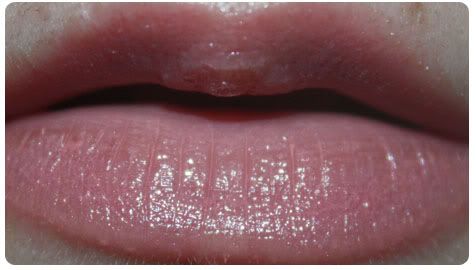 Overall, another beautiful collection from L'Occitane. But did you expect any less?
Have you tried anything from the collection? Love it as much as I do?
*PR Samples. As always, my opinions are 100% my own and completely honest.