If you recall, I reviewed Aveda's S/S '12 Sea Blossoms collection HERE a few weeks ago. The PR company were extremely kind about my review and instead of being offended about my comment on the pigment of their eyeshadows, they offered to send me something that would fix that issue: Aveda Eye Shadow Transformer (£22.50).*
"The Aveda Color Options Eye Shadow Transformer is a multipurpose liquid that instantly transforms Aveda Petal Essence Eye Color powders into a precise, vibrant liquid liner or an intense cream shadow, while extending wear."
I tested this on some Aveda eyeshadows I already own and then some Too Faced shadows from my Natural Eye palette. Obviously, it doesn't have to only be used on Aveda shadows. It can be used to add some punch to any eyeshadow. By any, I mean any that ARE NOT matte. I tried this on the matte eyeshadows from the Sea Blossoms collection and it did NOT work out.
But when used with shimmery or glittery eyeshadows? Magical. This seemingly simple clear liquid takes away the powdery look of your eyeshadows and gives them that gorgeous metallic and creamy finish.
Need some proof? Here you go: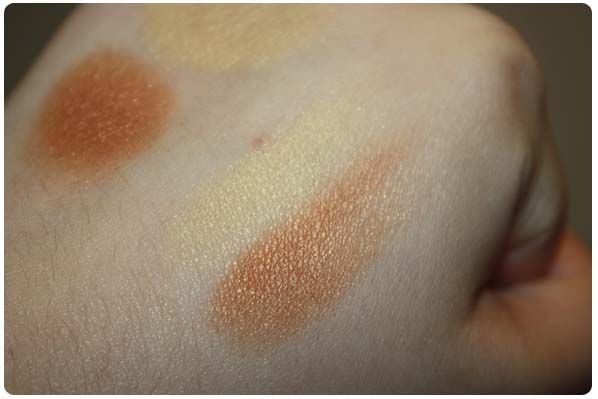 Aveda's Sanidine (left) and Crushed Citrine (right) with no Eye Shadow Transformer.
Aveda's Sanidine (top) and Crushed Citrine (bottom) with Eye Shadow Transformer.
From left to right: Too Faced Push-Up without Eye Shadow Transformer, Push-Up with Eye Shadow Transformer, Nude Beach without Eye Shadow Transformer, Nude Beach with Eye Shadow Transformer.
So that all looks great, right? But does it perform that well on the eyes? Yup:
No Eye Shadow Transformer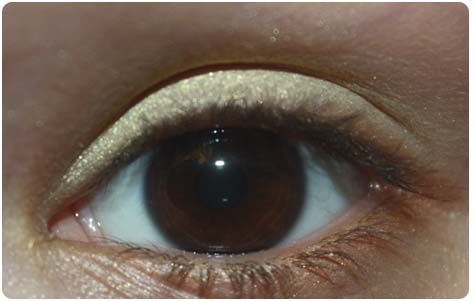 With Eye Shadow Transformer
This product is quite easy to use. Just dip your brush or the one provided (it's a bit too short for me, but it does the job, so I can't complain and it's definitely handy for travel) into a drop or two of the Eye Shadow Transformer. Then dab the brush into your desired eyeshadow and apply to your eye. It's quite easy to work up the intensity from sheer to BAM metallic.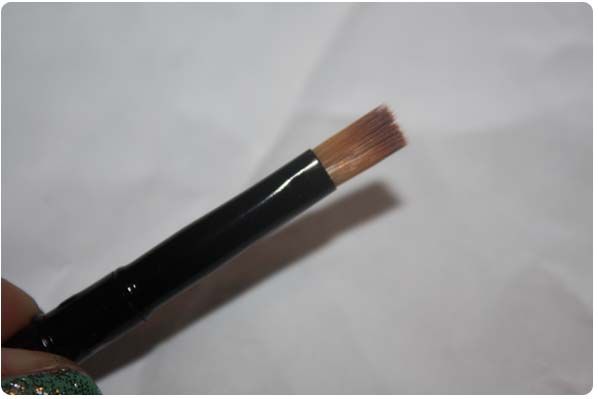 For £22.50 you only get 15ml of product. But because you only need 1 drop per use, you really won't go through this too quickly. Also, personally, this isn't a product I'd use on a daily basis. It's something I'd save for nights or days when I really want my eyeshadow to pop.
The packaging, a squeeze bottle, is simple but effective. Especially because the hole in which product comes out is extremely small, so you never have to worry about too much coming out and wasting product.
The claims about extending the wear of your shadows is true as well. I was a bit skeptical at first, because the consistency of the product doesn't exactly scream eye shadow primer. Rather, I feared the eyeshadows would slide off my oily lids. But that wasn't the case at all. My eyeshadow stayed metallic and crease free for hours!
Keeping to Aveda's all natural motto, the Eye Shadow Transformer is free from oil, parabens, synthetic polymers and resins as well as packaged in a 50% PCR bottle and 80% PCR fiber carton.
Overall, this is the perfect product for upping the pigment of your eyeshadows that may otherwise appear a bit lackluster. Perfect for anything you've bought recently and thought "meh". This product truly transforms your eye shadows from drab to fab!
Have you tried Aveda's Eye Shadow Transformer? What did you think? Comment below!
*PR Sample. As always, my opinions are 100% my own and completely honest.