The Yes To brand has always appealed to me. I have acne prone skin, so their all natural motto always seemed perfect for me. And I love that they're a paraben free company. I don't typically bother with making sure my makeup or skincare is paraben free, but anytime I find a product that is paraben free, it makes me feel better about it. So I was quite excited to try out their new Yes To Tomatoes Deep Pore Exfoliating Cleanser, especially because the moisturizer from the same range worked so well for me.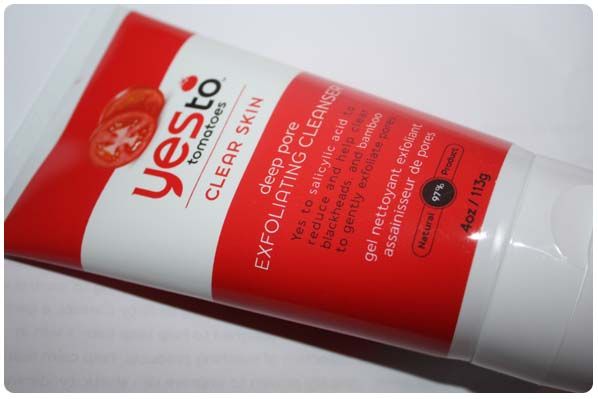 "Yes to salicylic acid to reduce and help clear blackheads and bamboo to gently exfoliate pores.
Bisabolol & Ginger: Help reduce the appearance of redness and existing blemishes for a clearer complexion.
Salicylic acid: Targets blemishes by unclogging pores, eliminating impurities, and helping to absorb excess of oil."
At £9.99, it's not cheap for a scrub, but I'd say it's worth the price, especially for sensitive skin gals. It's one of the most gentle scrubs I've ever used so I'd agree that it's okay for everyday use, but only if you have oily skin or else it might dry you out.
It's quite a grainy scrub (which I believe is the bamboo) and then there's some bigger exfoliators which I can only assume are the mango seeds. The texture turns from grainy to creamy which is very nice. Again, I'm impressed with the Yes to Tomatoes range. This scrub helped clear up some stubborn spots I had going on. It also helped flake off the nasty dry skin that occurred when they were drying up. Everytime I use it, my skin looks and feels soft and smooth the next morning after using it in the evening. It didn't break me out either, so that's obviously a plus!
In the UK, the Yes To range is available at www.victoriahealth.com, so it's not that readily available. It would seem you have to order online and it's not as easy as popping to your local Boots or Superdrug but I order stuff online all the time so it doesn't bother me.
Overall, this is a great exfoliator for oily skinned, acne prone people who want something gentle enough for everyday use, or just a good exfoliator in general.
And in case you're interested, some of their other recent launches:
Yes To Cucumbers Body Lotion (£9.99)
Yes To Carrots Exfoliating Body Wash (£9.99)
Yes To Carrots Leave in Conditioner (£9.99)
Yes To Carrots and Cucumbers On The Go Kit (£15)
Have you ever tried anything from the Yes To brand? What do you think?
*PR Sample. As always, my opinions are 100% my own and completely honest.